I went a bit crazy last week and ordered far too many beads and charms - oh well you can never have enough eh? I have various stashes hidden around the house so my partner doesnt cotton on to how much I spend.
My favourite buy has to be some vintage charms and cameos. I should have something to show you soon.
With some of my 'stash' I made some lovely beaded rings and a loaded charm bracelet. Charm bracelets are so fun to make I love packing the chain with unusual, interesting bits and bobs.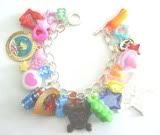 Apologies for the photo quality, something isnt working properly - what? I have no idea :)